Guest of Honor: Summer Russell
Summer Russell first stepped across the filk veil at OVFF in 2014. She brought along a menagerie of fandoms, a bundle of bardic tradition, and a little fairy dust from the road. She has been received with a warm welcome on convention stages and a home in the magic circles, as well as some life-changing kindness along the way.
She sings from the heart about stories and characters that move and inspire her, about wonders that are and those that might be. An ambitious songwriter with deep roots in folk music, she works and plays with palettes from pop and rock to bluegrass to splashes of reggae. She has lived in a lot of places, but mostly near water.
---
Toastmaster: Lauren Oxford
Lauren Oxford (formerly Lauren Cox, now married as of April 2022) is a songwriter, singer, and multi-instrumentalist who stumbled into filk by befriending Cat Faber, who is still her very favorite convention travel partner. She is a four-time Pegasus nominee, twice for Best Writer/Composer in 2018 and 2019, and twice for Best Performer in 2020 and 2021.
Her self-titled debut album was recorded in June 2022 with dear filk friends and released at OVFF 38; it's FINALLY A THING THAT EXISTS IN THE WORLD and is available digitally and on CD.
Lauren lives in the lush, green mountains of East Tennessee with her wife Emma and their three cats, Ansel, Henri, and Alli. She's beyond honored to be a guest at a convention that means so much to her.
---
Honored Listener: Mike Gucciard
Mike Gucciard: Introduced to Filk in 2007, when Alyse Middleton finally succeeded after YEARS of trying to get him to attend, Mike has been an avid Filk fan ever since. He is known variously as "Gooch" or "Scotchy" depending on when and how you met him.
A Sr Systems Engineer by trade, in his off time Mike does volunteer work with several 501c7 organizations including the Dorsai Irregulars and Barfleet , and is an active supporter of multiple Filk groups and performers.
---
Interfilk Guest: Daniel Kelly
Daniel Kelly is an Electrical Engineer by profession, but a folk singer and ballad collector by preference. After being introduced to the filk community in 2017, he has written many original filk songs, filk parodies and made some recordings of filk classics.
Daniel is from Yass, a rural town in Australia where he regularly performs at cafes and music festivals. Otherwise unable to join the global filk community in person, the COVID-19 pandemic provided the opportunity for Daniel to perform at many virtual filk cons in concerts and circles via Zoom
Daniel's music albums can be found here: https://ozfolklounge.bandcamp.com/
---
Special Guest: Leslie Hudson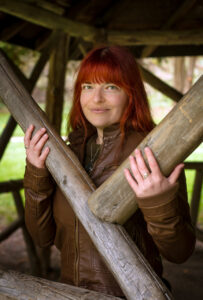 Leslie Hudson (they/them) is an award-winning Canadian singer-songwriter and pianist based in Stratford ON. Their many albums range from storytelling styles to bluesy bar rock to dialed-up, full-band homages to pop culture.
They've toured extensively across the US, Canada, and all the way to Germany, playing house concerts, conventions, pagan shops and other venues that support diversity. Leslie's passionately honest approach to their craft dives deep into archetype and folklore, modernizing ancient voices and shining a spotlight on the shadowy paths we walk through life, myth, media and mental health.
Leslie is celebrating their 10th year as a performer and their first time back to OVFF since 2019.